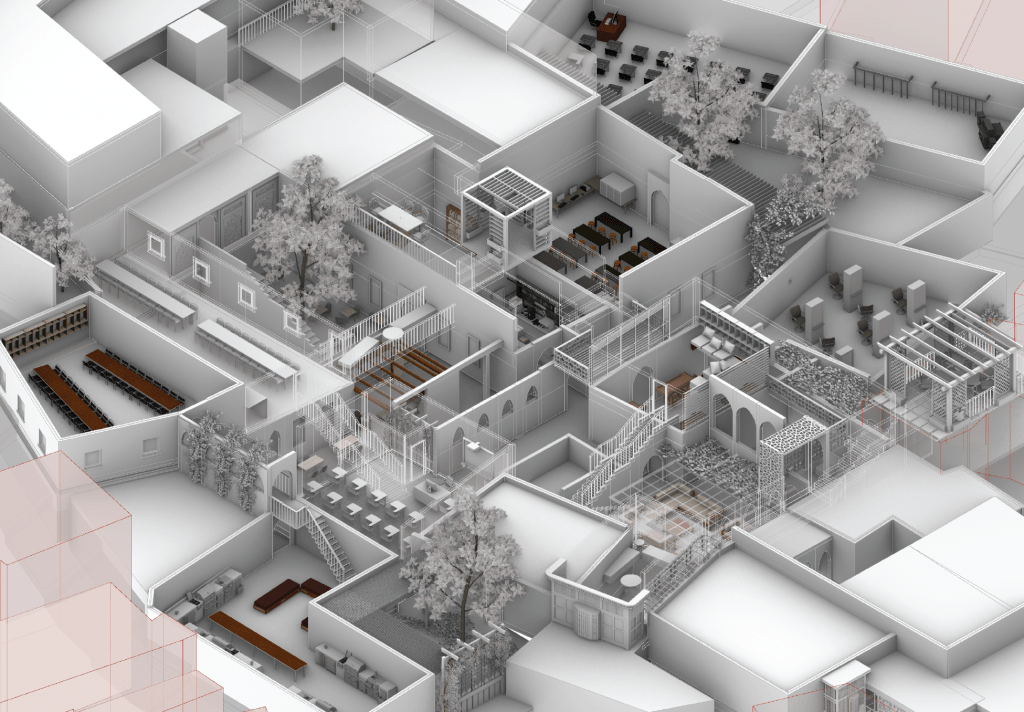 Behind Closed Doors
Lubna Assaf, The Technion
The project offers a physical-ideological urban shelter that gives "social protection" to women in Arab society and changes their low status in the long term.
The phenomenon of violence against women has been rising steadily, and in recent years is the focus of wide public discussion in Israel and worldwide. This study focuses on violence against women in the Arab society in Israel, where women are still perceived as "brainless." As part of the measures put in place to address this phenomenon, in the 1970s "women's shelters" were established around the world and in Israel in order to provide families with a physical shelter for protection and recovery. To date, only two shelters have been established in Israel for the Arab society.
Today's shelter is in a confined structure surrounded by a high fence and cameras, generating a feeling of imprisonment in the women while the high level of protection raises their anxiety and alertness levels.
The project defines a new concept of "shelter," and offers a physical-ideological urban shelter. On the one hand, the project examines how the shelter creates an environment of protection, stability, and rehabilitation for the family , and on the other hand, it examines how the shelter constitutes "social protection" for all women, changing the low status of Arab women in the long term. The project is based on Pierre Bourdieu's theory of Habitus and the male domination: Ideological change through spatial change. The design relies on the proposals of "Mahlum's office" in planning a rehabilitation shelter for women and their children. At the same time, it also sets out to change the symbolism of Arab construction that was previously used to hide and shelter women and improve passive protection that allows free movement within the shelter area. As a case study, the project focuses on the old market area of Nazareth, which in recent years was revived by feminine power. The physical-residential shelter extends over the entire neighborhood, and connects to the market area, which is the ideological shelter, via a cultural community center. The passage between the areas constitutes a barrier and a substitute protection measure instead of the fence.
My main goal in the project is to raise awareness of the phenomenon and of the need to improve current conditions not only for the victims of violence, but for Arab society in general.